David Levin became CEO of McGraw-Hill Education three years ago, soon after the underperforming company was sold to a private equity group. One of his first acts as part of his recovery plan was to take his leadership team on a trip to India. "We went to classrooms to [observe] formal education and informal education in the streets, and we saw quite extraordinary things in the way a society at a very different point of its development was coping with poverty and learning."
Levin recalls meeting a man, Suneel, who lived on the streets and had "taught himself to read, and amazingly, he'd also taught himself how to code, and then he'd gone on to create this incredible set of digital dictionaries, which would work on cell phones, designed to basically empower people like himself." He says this encounter, along with others in India, made them better understand "the incredible human capacity" for learning, and how technology has the potential to create self-driven learning experiences. It helped him define their purpose as a company, "which wasn't selling books, but it to unlock the potential of every learner. It helped us reconnect the soul and mission of McGraw back to itself, which had become somewhat disconnected. That can happen in a company [that's been around since 1888]." The trip became a catalyst for taking the conventional textbook publisher from print to digital, a transformation that he had been tasked with by the new owners. At the time Levin started, only 23% of the company's higher education revenue was from digital sales; today it stands nearly 70%.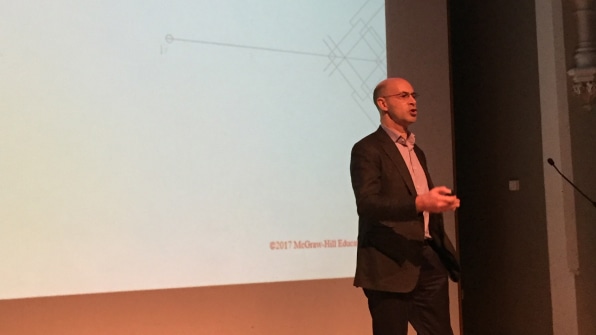 SHOW, DON'T TELL
Levin's leadership is behind the company's move to engage with students, the ultimate end users of their products, with whom they had failed to connect in the past. Now the company "goes to customers, meeting students, holding forums. You want students to be passionate . . . feeling there's a benefit in the product because they've got more choice and more agency in their learning." The company also actively works with students to get their feedback, "We are interested in students' experience with the product: Did it help them? Are they excited about how it helped in their success? How did it help them? Would they recommend it to their peers? Did they use the features (such as reports) to aid their study efforts?" Such feedback allows the company to create digital textbooks that meet students where they are, supporting them through their homework, personalizing a pathway for their learning. For example, "if you know something, a gateway opens to allow you to track your progress. If you don't know something, it turns to say, 'Well, you obviously are missing a prerequisite here, you're not going to chapter four. I'm going to take you back to chapter one because you've got to learn that.' So, the book is supporting you in a very direct way," Levin says.
Under the old economic model, the company was in the business of selling books. Now, Levin says, "we are focused on a new model to improve educational outcomes for students—help them get better grades, complete their courses, and graduate from college. How do we wean ourselves off the very high-priced textbook and come out with much more affordable digital offerings?" Though the average digital college textbook, at $75, is half the price of one of the company's print textbooks, that's still quite high for students from low-income backgrounds, and the company could be doing more to bring down prices even further. And, focusing more on digital offerings, which lower production (and environmental) costs of digital books seem to be a good way to do that.
BEING VULNERABLE AS CEO
To build an internal learning culture that falls under the company's overall mandate for unlocking learning, they have created an internal online platform, Spark, where Levin posts personal stories and direct communications with the team. Last year Levin shared a story on Spark about his recent trip with his mother to celebrate her 90th birthday. They had visited the town in Lithuania where she was from, and where the Nazis had murdered all the other members of her family. The story inspired 127 people to post their own stories, "I think it gave license for others to share." He has also used the platform to engage when the company had done something wrong. In 2015, a high school student in Texas posted a video on Facebook about a caption they read in a World Geography textbook that McGraw-Hill had published. It read, "The Atlantic Slave Trade between the 1500s and 1800s brought millions of workers from Africa to the southern United States to work on agricultural plantations." "I read the caption and immediately felt appalled," Levin says. The use of the word, "workers"–for Africans who were forcibly brought to America as slaves created an outpouring of comments on Facebook and elsewhere. The incident was "very painful for the public and our employees."  The company issued a correction ("Many Americans are descendants not of voluntary immigrants, but of some 12.5 million Africans, enslaved and forcibly transported to the Americas."), and offered a free, corrected book to those who had already purchased it.
Levin also took responsibility for the error, writing on Facebook (and Spark), "We made a mistake. We are deeply sorry that the caption was written this way. While the book was reviewed by many people inside and outside the company, and was made available for public review, no one raised concerns about the caption. Yet, clearly, something went wrong and we must and will do better." In response to the incident, Levin says the company has increased the number of reviewers for their textbooks to reflect greater diversity, and to create a more transparent Wikipedia-like process for editing books, "We changed the way we work and edit to find ways to incorporate more "cold reads," done by people who have not previously read the work to ensure a fresh perspective on materials in near final format. We reached out to experts with knowledge and expertise in different cultures to help us with product development." When I asked him what he had personally learned from the incident, Levin said, "I think [in] the role of the CEO, it's really important to able to be vulnerable . . . say sorry and able to say there was a mistake. Because if you can't own up to that . . . how could you expect to create culture where people can make mistakes?"
Upcoming Webinar: Create Inspirational Managers in 90 days